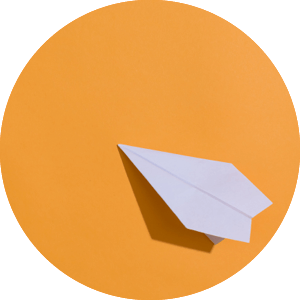 Inserts, Perforations, and Fun Folds: Thinking Outside the Box With Your Form Factor
In the last few years, direct mail has experienced a creative renaissance. What was once considered a relatively simple form of print marketing communication that was limited to postcards and selfmailers is now, in part due to the speed and quality advancements of digital inkjet print, a blank canvas for designers to create more high-end, visually engaging pieces.
"Direct mail marketing continues to be a great outlet for a designer's creative energy and also one of the biggest tests of problem solving," write Elizabeth Gooding and Mary Schilling, authors of The Designer's Guide to Inkjet, 3rd Edition. "Selfmailers and postcards can drive response with interest-grabbing folds, shapes, windows, and finishes."
While the competition for eyeballs with direct mail is significantly less than digital communication channels like email, designers and marketers can help their mailers better connect with recipients by thinking more creatively about design elements like inserts, perforations, and folds. Here, we'll look at a couple of ways you can think outside the box with your form factor to create direct mail with robust response rates that optimizes your print marketing budget.

Inserts can help you further your messaging and extend the experience of your mailer
While postcards or self mailers can be an effective form of direct mail when casting a wider net in terms of your target audience, direct mailers that incorporate an insert can help you design a more sophisticated mailer that provides a higher level of value for a more targeted mailing list.
The addition of this extra piece also provides more real estate and freedom for higher-end design concepts and more detailed messaging that demonstrates you've taken the time and resources to understand your audience.
According to Gooding and Schilling, direct mail inserts provide a couple of interesting opportunities to design more dynamic, engaging direct mailers.
First, inserts allow designers and marketers to expand the use of relevant personalization with varied photos, graphics, color, text content, and preferred language. Plus, direct mail inserts also provide additional room for personalized content that can include links to online offers, expanded explanations, audio, and augmented reality via variable quick response (QR) code technology.
For instance, you could design a direct mailer insert that is a coaster with a QR code on one side that opens a 360°-view augmented reality experience that provides a more interactive look at a product or service. This not only creates a deeper connection between your audience and your company, but it also provides something of value that the recipient is likely to hang onto and potentially show family, friends, or colleagues to help increase the reach and influence of your direct mail print.
Perforations give your audience a little something extra to take away from your mailer
Gooding and Schilling argue that one of the more interesting opportunities for designing effective direct mail campaigns with digital inkjet in mind is the ability to "add layers to an offer with integrated loyalty cards and using dynamic perforation for tear-off components."
Creating direct mailers with perforated cards that are designed to be punched out and used to redeem a special offer or as a reminder of an upcoming event can increase the usefulness and value of your direct mail print.
Here are a couple of ideas for how you can use perforation in designing your next direct mail piece to give your audience a little something extra to take away from your mailer:
Coupons. A recent study found that 65% of millennials like receiving direct mail coupons for retail business, and 69% said they like receiving coupons for restaurants or hospitality services. Perforation makes it easy for your audience to detach and redeem a coupon, or share it with others who may be interested in your offer.

Business cards. A perforated business card in your direct mailer makes it easy and less cumbersome for your audience to retain important contact information. Plus, you could also incorporate a QR code that opens an online calendar to book a meeting with your sales team.

Save-the-date card. An effective perforation for use with event marketing, a save-the-date card can be detached as a reminder of an upcoming event. Additionally, you could also incorporate unique finishes like foils or treatments to turn the card into a keepsake your recipient will want to save even after the event.

Fold in a little fun with depth and dimension
The flexibility and versatility in terms of the kinds of substrates and inks you can use with a digital inkjet press make it easier to experiment with unique, interesting direct mail folds that can better engage and delight your audience. Plus, with the right kind of fold, you can actually enhance the messaging of your mailer via an unfolding process that creates a narrative through the order in which the content or images are revealed.
What's more, the speed and quality with which digital inkjet can print full-color, foldable spreads on a wide range of substrates reduces the print time necessary to produce cost-effective, dimensional direct mailers.
Here are some examples of fun folds to try when designing your next direct mailer:
Accordion fold. This simple zig-zag pattern folds fans out to turn flat paper into a 3D object. Plus, you can use progressively smaller panels to create a tabbed look that piques the curiosity of your audience as the mailer unfolds.

Broadside reveal fold. Ideal for brochures, event registration or schedules, special promotions, or maps, a broadside reveal fold uses a traditional three-panel interior spread that, as it unfolds, slowly reveals images or copy in a way that builds anticipation and piques the recipient's interest.

Roll fold. With panels that fold inward so they roll into each other, the roll fold creates a smaller, more compact final piece along with a more engaging way to reveal content and images. Plus, you can also apply die-cutting so that the shapes overlap to create a more intriguing appearance.

Poster fold. A poster fold compresses your messaging into a small package that, when opened, allows for a big reveal. What makes a poster fold interesting from a design perspective is that, with the right touches, it can turn a brochure or pamphlet into a higher-end, more artful piece for someone to display on their wall.
The lane for direct mail to take a jump beyond the postcard is wide open. Inkjet press technology can help designers unlock new levels of creativity and innovation to produce direct mail print that is eye-catching and effective in driving response. Learn more about how inkjet can help you take direct mail up a notch by downloading The Designer's Guide to Inkjet, 3rd Edition.