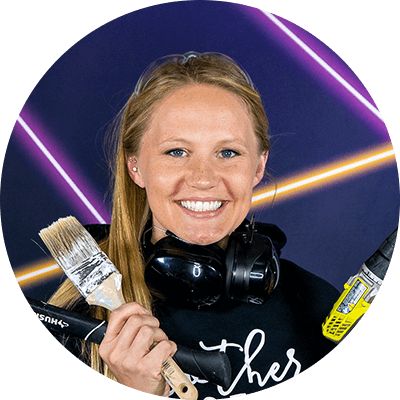 thINK 2023 Executive Planner
By Alyssa Watkins
Canon Solutions America — in collaboration with thINK, an independent community of Canon inkjet customers and industry experts — wanted to create a fun, engaging giveaway for attendees of Canon's 2023 sales kickoff summit. Canon wanted the giveaway to have utility beyond the multi-day event, and it also needed to highlight the benefits thINK membership provides print industry professionals via the forum's annual thINK Ahead event, online tools, and networking opportunities.
An executive planner proved to be the perfect application to demonstrate how Canon's digital inkjet presses combine flexible, efficient print processes with stunning image and color quality to transform an ordinary planner into a true keepsake.
First, we created a theme for the planner, Go Further. 2023, to infuse the design and content with a sense of excitement and discovery about how thINK members can use the innovation and productivity of Canon's inkjet presses to reach new heights in 2023.
We designed the cover using stunning photos of snow-topped mountainscapes, and we used a spot UV treatment on the headline of the planner to make the cover and messaging more memorable.
Each full-color calendar page marked thINK member events to demonstrate the breadth of informative programming thINK provides to help those in the print industry stay connected to current trends and topics. Plus, the right rail of each calendar page featured content highlighting 12 specific member benefits thINK offers, many of which incorporated quick response (QR) codes to help attendees explore the forum's range of interactive online tools, resources, videos, and opportunities to connect industry professionals.
With this executive planner, attendees had everything they needed to plan for a productive year with Canon and thINK by their side.
Printed on the Canon varioPRINT iX sheetfed inkjet press. Cover pages printed on 100lb. Moorim ProDigital Silk Cover with Soft-touch Laminate + Spot Gloss UV Coating. Interior pages printed on 100lb. Moorim ProDigital Silk Text.
Have you designed print for inkjet that incorporated digital components like QR codes? Or, have you designed marketing collateral similar to this executive planner? We want to see it! Submit your work to be showcased in a future Dots & Pixels Project Spotlight.