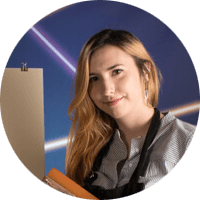 A Masterpiece of a Mailer
By Alison Weust
Canon Solutions America Production Print Solutions wanted to reach a graphic arts audience with a high-design, high-quality demonstration of what Canon print technology can do. This direct mail piece was designed to both communicate that message and act as a sample for commercial applications.
The mailer folds out to reveal a set of cards, each containing details about a different press in the Canon graphic arts suite. Each card features artistic images that represent specific art movements, and each movement is chosen to represent the unique value propositions of that press. For more information and to see a video of each press in action, recipients can scan the QR code on each card.
The entire piece highlights vibrant colors and fine details, demonstrating how these presses can achieve offset quality while offering digital flexibility, and the use of variable data throughout shows yet another benefit of digital print.
Designing direct mail for digital inkjet is our jam, and we want to feature similar projects on Dots & Pixels. Send us your best work and we'll showcase it in an upcoming Project Spotlight.